Hello to all of you,
As you know if you have looked at the MDD programme, there will be a half day of "leisure" on Wednesday afternoon.
My colleagues will certainly organise other festivities (such as games on the beach, etc), but, as was the case 3 years ago in Aussois, I am proposing to those who wish to do so to go on a hike. This time, it will be a hike from Biguglia (10 mn drive from the centre) to the top of the Cima del Zuccarello (955 m).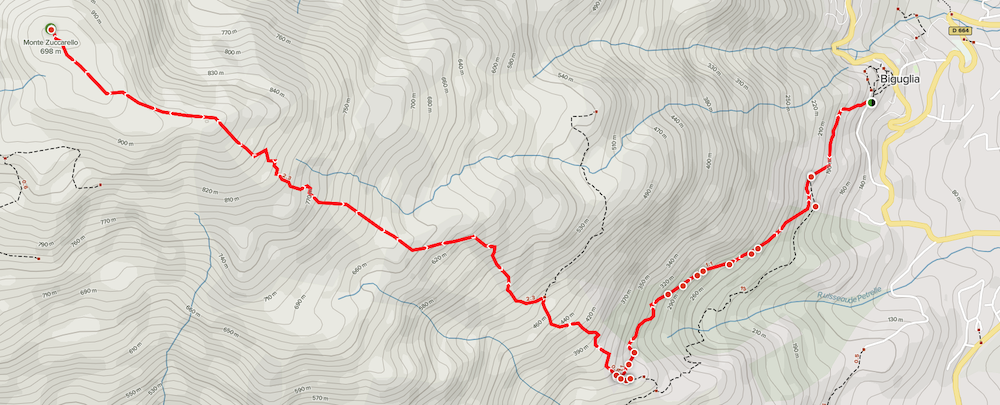 The hike is about 9 km in total (it's an outward and return trip on the same path) with 850 m of difference in altitude (you climb 850 m on the outward journey and then descend them on the return journey). It is therefore short but quite physical because:
(1) it is in Corsica (and in general the paths are rather difficult)
(2) it can be (very) hot and the path is apparently not shaded
(3) 850 m of climb over 4,5 km, it's a good climb (and therefore a good descent).
(4) I'm afraid there is no water on the path.
I wanted to warn you about the possibility of doing this hike so that if you want to do it, you should consider taking :
– a cap
– hiking shoes
– if possible walking sticks (not essential, especially if you are not a bit old like me 🙂 )
– a bottle of water (1L or rather 2L)
– sun cream
– a small backpack to carry it all….
I have never done this hike (just selected on a map and on the web) and I am not a guide, nor a professional guide. I just like it and it's fun to bring a dozen of people to suffer a bit in the sun for 5 to 6 hours. As it was the case 3 years ago, I would prefer to have a maximum of 10 people doing this activity. I will provide transportation from the centre to the start of the hike in 3 or 4 trips (I will have a small car) and there will be a bit of waiting on one side or the other 🙂 )
Here are some links and pictures to give you an idea :
https://www.alltrails.com/fr/explore/trail/france/haute-corse/monte-zuccarello?mobileMap=false&ref=sidebar-static-map
We will leave just after lunch and return for dinner. If you have any questions, you can write me.
See you soon!
Luc