U.E. Network Evolutions with Virtualization and Automation (NEVA)
Code: USEEN4 (Cnam), MU5IN056 (Sorbonne University)
(course called REOP until 2018, RCG until 2012)
Responsible : Stefano Secci (stefano.secci@cnam.fr)
Teachers and Assistants: Francesca Fossati (network optimization, network reliability modeling), Bruno Chatras (NFV and automation systems and standards), Alessio Diamanti (labs, miniprojects), Stefano Secci
Description :
The goal of this course is to present new technologies designed for advanced operations of IP networks in the last twenty years. The course starts with the evolution of IP switching and routing architectures, with a particular focus in traffic engineering and quality-of-service architectures. Then, the evolution of the Ethernet architecture and layer-2 protocols in general is presented, showing the extensions applied to let layer-2 protocols scale going from local area to metropolitan and data-center network segments. The course shows how IP and Ethernet evolutions recently converged in novel softwarized network environments, making use of data-plane programmability, network virtualization, cloud-native systems and automation frameworks.
Modalities :
The teaching program is organized in lessons, industrial seminars, technical laboratories, and mini-projects. Three technical lab sessions take place on advanced BGP, MPLS and applications, and SDN controllers (ONOS, OpenDayLight). Mini-projects are advanced SDN projects leveraging on the platform used for the SDN lab. Labs and mini-projects are evaluated by means of reports, oral defences and technical demonstrations. A final exam terminates the course.
The following scheme illustrates the course planning, milestones and deliverables.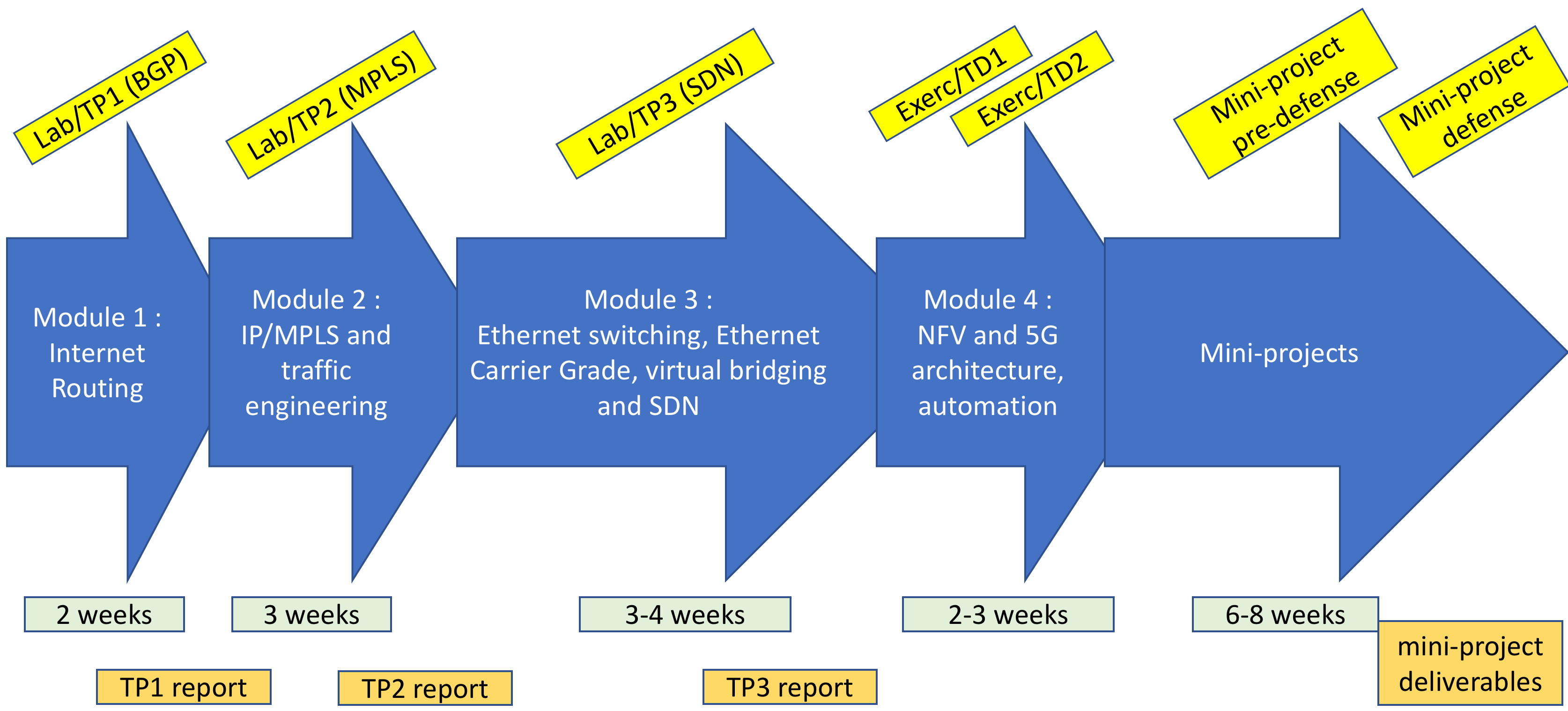 Topics :
High availability: infrastructure planning, redundant systems, computing standards for availability and reliability.

Technologies : CEI 61078, MTTF, MTBF.

Internet routing: advanced Internet routing and network mapping protocols.

Technologies : BGP, LISP.

Label switching, MPLS : history and principles of label switching, label distribution protocols, label stacking, and multi-layer generalizaitons.

Technologies : ATM, MPLS, LDP, MP-BGP, MPLS-VPN, GMPLS, T-MPLS.

Traffic engineering: traffic engineering in link-state routing protocols, IP/MPLS traffic engineering and inter-domain extensions, centralized control plane.

Technologies : OSPF/ISIS-TE, MPLS-TE, PCE, SDN.

Ethernet carrier-grade : Ethernet evolution from shared Ethernet to switched Ethernet and Ethernet routing, Ethernet carrier grade extensions for metropolitan area and data-center networks.

Technologies : IEEE 802.1 family, STP, RSTP, VLAN; PB, PBB, MSTP, LAG; PBB-TE, OpenFlow, TRILL, L2LSP, PWE3; VPLS.

Network Virtualization: virtual briding, data-center architecture, reliability and node-path redundancy, virtualization of network functions, network operating systems, cloud network overlay protocols, cloud quality of experience.

Technologies : NFV, VMM, VXLAN, NVGRE, STT, OpenStack, Kubernetes.

Orchestration and Automation : NFV orchestration, 5G slicing, virtual machine mobility, differences between automation and orchestration, automation from script-based management to autonomous networks and zero-touch management. Review of recent advances in standardization bodies and open source communities.

Technologies : ZSM, ETI, ONAP.

Network Optimization: revisiting studied routing and traffic engineering problems (IP-TE, MPLS-TE, MSTP-TE, SDN, NFV) with mathematical programming, formulation and understanding of mixed integer linear programs.

Acquired skills:
Network architect, designer and administrator of enterprise networks, data-center networks, provider networks.
Ethernet Carrier Grade architecture and protocols
IP/MPLS architecture and advanced protocols
SDN/NFV technologies and 5G architectures and platforms.


Required courses and background:
M1 RTEL, ARES, ROUT.
Files: